MSS Trophy Engine Cam Valve Cover Kit Focus Zetec 2.0 Contour w SS Hardware Cap
Massive Trophy Valve Cover Kit for:
Focus Zetec 2.0 '00 - '04 Contour '95 - '97
Zetec powered kit cars too: Birkin, Caterham, Lotus 7, Locost LS 40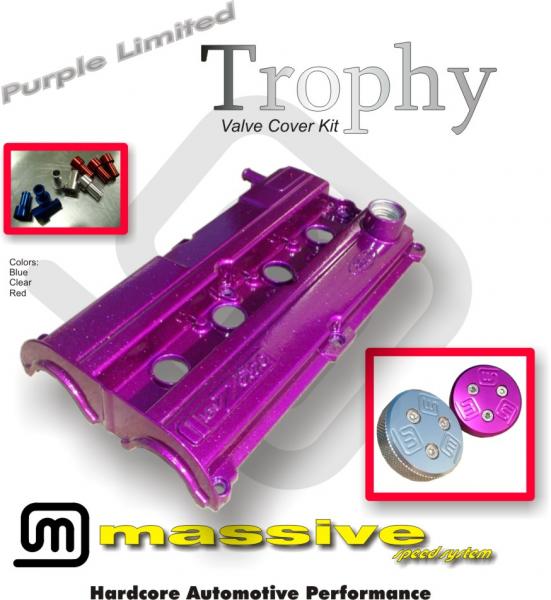 Beautiful show finish!!! Reclaimed aluminum valve covers are fully cleaned, blasted, checked and powder coated. This coating not only withstands extreme temperature, but also looks great and is impervious to water and other under hood chemicals. Super easy maintenance, just clean with spray wax and go - no need for time consuming polishing. All accessories made by massive in the USA! Installation is simple and should take less than an hour for the average car guy or girl. Some valve cover designs will vary slightly, some will state "Zetec" others will have "16V DOHC". Please specify or you will receive random selections. Valve cover designs subject to availability. Make a big impression next time you open your hood!!!
Included:
Silver Chrome or Purple Pearl Coated Aluminum Valve Cover.
massive MAEN'2922.x Chrome or Purple color choice!
Hardware kit with Stainless Socket Head Cap Screws and Billet aluminum anodized bolt spacers.
massive MAMC'10818.x  Clear or Purple anodize color choice!
High performance Fel-Pro gasket.

Rubber bolt grommets.

Custom billet aluminum anodized screw in oil cap.
massive MAMC'8408.x Clear or Purple anodize color choice!